VANCOUVER, BRITISH COLUMBIA-(Marketwire – May 10, 2012) - Passport Potash, Inc. (TSX VENTURE:PPI)(OTCQX:PPRTF) is pleased to report that it has received analytical results from the first two wells drilled and cored as part of its 2012 drilling program. Analyses completed at the Saskatchewan Research Council Laboratories in Saskatoon, Canada returned 3.05 metres of 17.07% KCl from drill hole PPI-2012-01 and 1.99 metres of 16.82% KCl from drill hole PPI-2011-31. Included within the potash interval of PPI-2012-01 were 0.99 metres of 27.83% KCl which included 0.23 metres of 45.43% KCl. Included within the potash interval of PPI-2011-31 were 0.70 metres of 28.37% KCl which included 0.17 metres of 41.00% KCl. (See Table 1).  Drill intercepts are believed to represent true thicknesses as the wells were drilled vertically and the potash beds are essentially flat lying.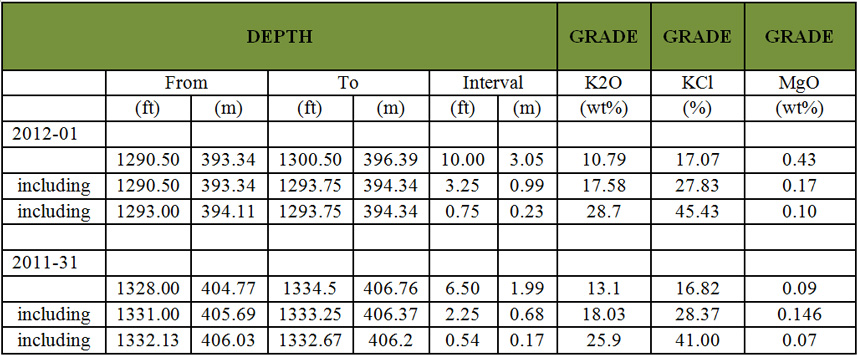 Hole 12-01 and Hole 11-31 are part of an expansion and in-fill drilling program designed to expand the recently released resource as defined in the NI 43-101 Technical Report prepared by ERCOSPLAN. The primary objectives of the current drilling program are to increase the overall number of drill holes to be included in a future resource calculation and to decrease the spacing between existing drill holes. These actions will lead to an increased level of confidence that the potash mineralization is continuous, and to the potential expansion of the future resource calculation. *
Passport Potash President and CEO Joshua Bleak commented: "We are extremely pleased with the results as we continue with our current drill program to further define our resource. These two results will be added to our resource calculation and help to define the deposit of which we currently only have a calculation for 40% of our total land package. Once we complete our 2012 drill program, we anticipate our updated resource calculation will cover a much greater percentage of our land holdings."
About the Holbrook Potash Project
Passport Potash Inc. is a TSX-listed resource company engaged in the exploration and development of advanced potash properties. Passport has acquired a strategic position in the Holbrook Basin with land holdings encompassing over 86,000 acres. In addition, Passport has a cooperative agreement with the Hopi Tribe, allowing the company to access and conduct certain exploration activities on an additional 12,853 acres of privately held Hopi land (not reservation) while allowing the tribe to share in the study results. For more information regarding the Holbrook Basin, see

http://www.azgs.az.gov/arizona_geology/Summer%2008.pdf or visit our website at www.passportpotash.com
Quality Assurance and Quality Control
The standard operating and quality assurance procedures followed by Passport Potash employees have been instituted to make sure that all sampling techniques and results meet international reporting standards.  Coring starts when the first significant gypsum interval (Upper Supai Formation) is intersected.  Information about the drill holes and the on-site core descriptions are conducted according to international standards (depth intervals, recovery %, lithology, structure, alteration, rock type, weathered profile, sample intervals, remarks).  Onsite field geologists collect the cuttings, bag and label them and place a small sub-sample into a chip tray for further treatment.  Directly after being retrieved the cores are measured, cleaned, filed logged, packed in plastic poly sheeting and placed into sequentially numbered and labeled core boxes.  Material is temporarily stored prior to transfer to the core facility in Apache Junction, Arizona, where significant intervals are dry cut in half.  Half core samples are then bagged and carefully packed into boxes and shipped to the Saskatchewan Research Council in Saskatoon.
Passport is utilizing SRC's Potash ICP Analysis package designed for multi-element analysis of potash samples.  SRC includes blanks, duplicates and their internal potash 003/004 standards in the analysis.  SRC's analytical procedures have been more fully detailed in the NI 43-101 Technical Report, dated 30 March 2012, prepared for Passport Potash by ERCOSPLAN Ingenieurgesellschaft Geotechnik un Bergbau mbH. SRC is an ISO/IEC 17025:2005 certified facility.
Tim Henneberry, P.Geo., Advisor, and a Qualified Person as defined in National Instrument 43-101, has reviewed and approved the technical content of this news release.
On behalf of the Board of Directors
PASSPORT POTASH INC.
Joshua Bleak, President
This news release includes certain statements that may be deemed "forward-looking statements". All statements in this release, other than statements of historical facts, including the likelihood of commercial mining and possible future financings are forward-looking statements. Although the Company believes the expectations expressed in such forward-looking statements are based on reasonable assumptions, such statements are not guarantees of future performance and actual results or developments may differ materially from those in the forward-looking statements. Factors that could cause actual results to differ materially from those in forward-looking statements include unsuccessful exploration results, changes in metals prices, changes in the availability of funding for mineral exploration, unanticipated changes in key management personnel and general economic conditions. Mining is an inherently risky business. Accordingly the actual events may differ materially from those projected in the forward-looking statements. For more information on the Company and the risks and challenges of its business, investors should review the Company's annual filings that are available at www.sedar.com.
Neither TSX Venture Exchange nor its Regulation Services Provider (as that term is defined in the policies of the TSX Venture Exchange) accepts responsibility for the adequacy or accuracy of this release.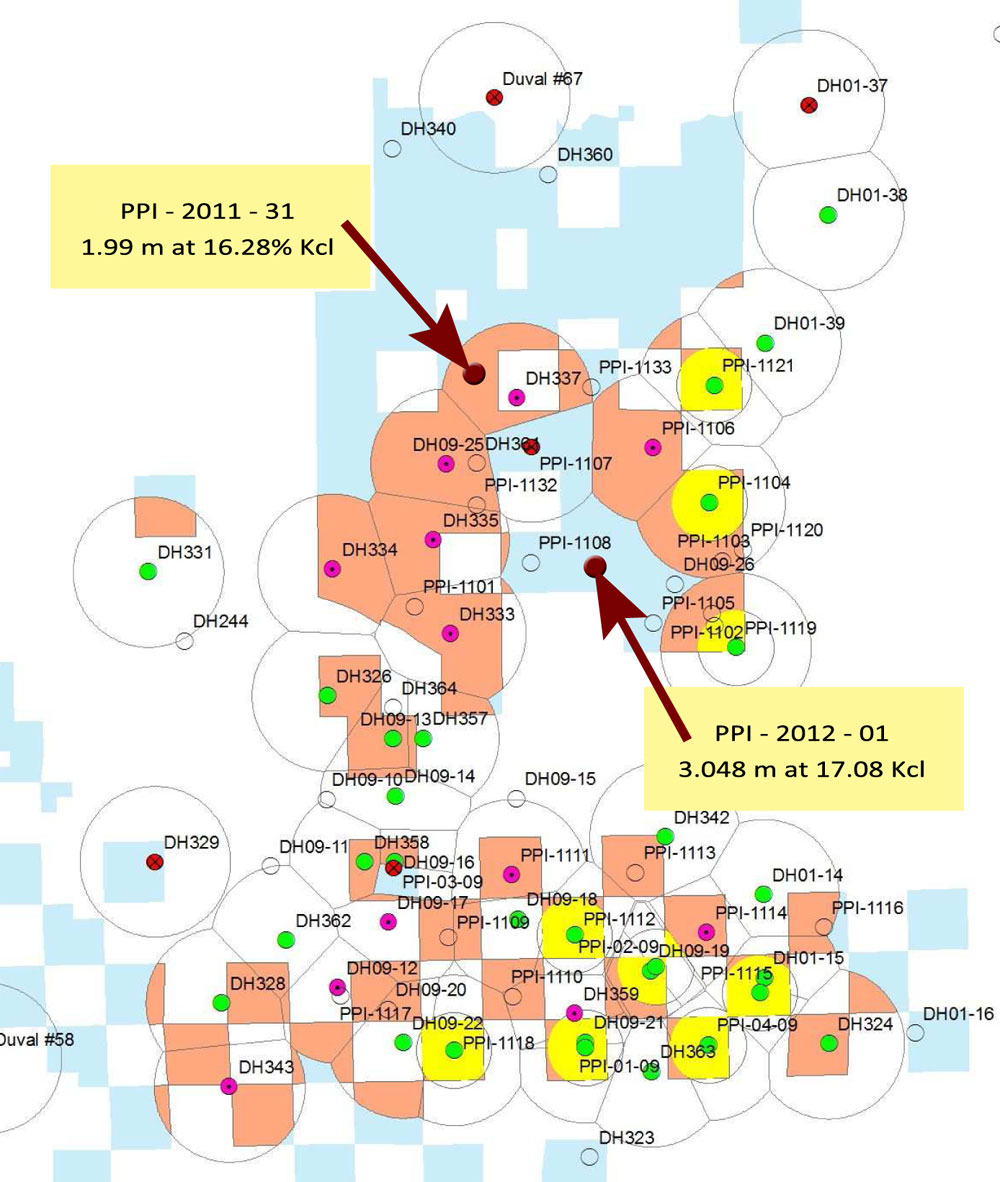 Contact:
Passport Potash Inc.
Peter J. Kletas
Manager of Corporate Development
866-999-6251-Toll Free
[email protected]
Passport Potash Inc.
Clive Mostert
Corporate Communications
780-920-5044
[email protected]
www.passportpotash.com